AI & The Super Future Keynote by Jeremy Gutsche (2,500,000 views)
As an AI platform and AI-driven company, we've spent a lot of time accelerating our own company with AI and helping the world's most advanced tech companies further embed AI into their business. As a result, we have several AI solutions to up your game:
1. AI KEYNOTES, WORKSHOPS & AI INNOVATION ACCELERATOR - We have a series of AI keynotes and workshops that customize perfectly, no matter what the sophistication level of your audience may be. On the high end, we specifically advise 3 of the world's most prolific tech companies about AI strategy. And on the introductory end, we have helped leading non-tech brands think about how to reshape their strategy with AI. [BOOK A KEYNOTE]
2. AI-THEMED FUTURE FESTIVAL - This year's World Summit is themed around "The Year AI Changed You." Our epic event will feature the same key topics about the future, but with an added spin of diving into how every aspect of consumer trends is being shaped by AI. [LEARN MORE]
3. AI + HUMAN RESEARCH & ADVISORY - Unlock the full power of AI for your business with our custom trend advisory and research services. We have completed over 10,000 custom trend reports for the world's leading brands, leveraging AI to deliver BETTER research, 20x faster. [LEARN MORE]
4. AI FRAMEWORKS & BOOK - Our award-winning bestseller, Create The Future, is specifically about how to win in times of change and during the rapid acceleration of technology. In addition to teaching you how to embrace the future that AI will enable, there is an AI chapter that overviews our framework on the AI Mechanized Future, an approach to help you think about all the ways AI accelerates the world when combined with 6 other key megatrends. [BUY NOW]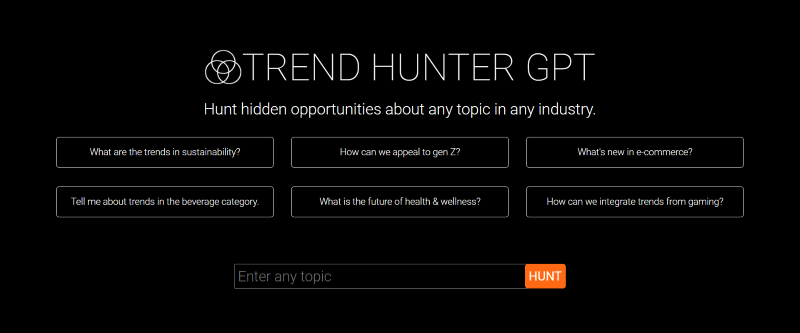 5. Trend Hunter GPT - Currently in Alpha, Trend Hunter GPT is our stunning, inspiring AI tool that helps you craft trend based essays and reports on any topic, in any industry, based on our full database and AI engine.